About EMDRremote.com
A little about the creators of EMDRremote.com...
Amie Lowery-Luyties
I am an EMDR trained therapist in Long Beach, California. I have worked with victims of crime since 1994 and was trained in Trauma Focused Cognitive Behavioral Therapy in 2010. Although TFCBT was pretty effective with clients, it was NOTHING compared to the results I have seen with Eye Movement Desensitization & Reprocessing Therapy (EMDR). I was trained in EMDR in 2019 and haven't used TFCBT since. As many of you have experienced, EMDR is priceless. COVID-19 hit and I moved all of my clients to online therapy and I asked myself, "now what?" I had JUST BEEN TRAINED and just got the taste of how effective EMDR is and now I can't use it. I was disappointed because I either had to get rid of my most effective tool as a therapist (EMDR) or get very creative. I thought that maybe if I had two devices and my client had two devices that I could use an online tool that had a lightbar and then see the client from another screen. Then I thought of maybe just doing the hand movements but then I remembered how much my arm hurt after the first day of EMDR training when all I used was the hand/finger movements. I asked around and people told me about all sorts of other sites, but nothing that I wanted to expose my clients to. I mentioned this to my brother-in-law who happens to be a tech guy and he said "I think I can figure something out so your clients can get the help they need." That is where EMDRremote.com was born. Having a licensed therapist and a tech expert teaming up together was a little choppy at first. He speaks tech language and, well, I don't. After tossing some ideas around, we figured out a way to see and hear the client while the lightbar and/or audio was going, all on ONE SCREEN! And he figured out a way for my picture to disappear off the client's screen while the lightbar was on, but they could still hear my voice. I couldn't believe it!! My clients were going to be okay. I could have access to the most effective tool I have in my therapist toolbox. Going without EMDR (one of the leading treatments for anxiety and PTSD) during the most anxiety provoking pandemic that has ever occurred sounded very scary to me.
Mike Luyties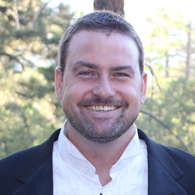 I have worked in the tech industry since 2005. I started out in the video game industry and have since developed many successful programs, websites & companies. Amie has talked at family gatherings about EMDR therapy and she was really excited about it. When I asked her how her business was doing after COVID-19 hit, she said that clients were coming in more than ever but that she couldn't use EMDR. I couldn't understand why and I told her I would help. So we developed EMDRremote.com together. When she asked if she could invite some friends, I said "sure." The next day we had 99 sign ups. I am so happy that so many people will be helped by EMDR, and knowing the tech industry and how our society continually moves towards using technology and removing barriers of distance between people, my guess is that clients will like using this tool and it's here to stay. When a physical lightbar costs a therapist $500-$800, I can't imagine why someone wouldn't use an online tool that can be accessed in the office or remotely without having to deal with physical equipment. I am excited to be a part of this endeavor and will work hard to make sure that you have the technology you need on hand so that you can focus on your clients.